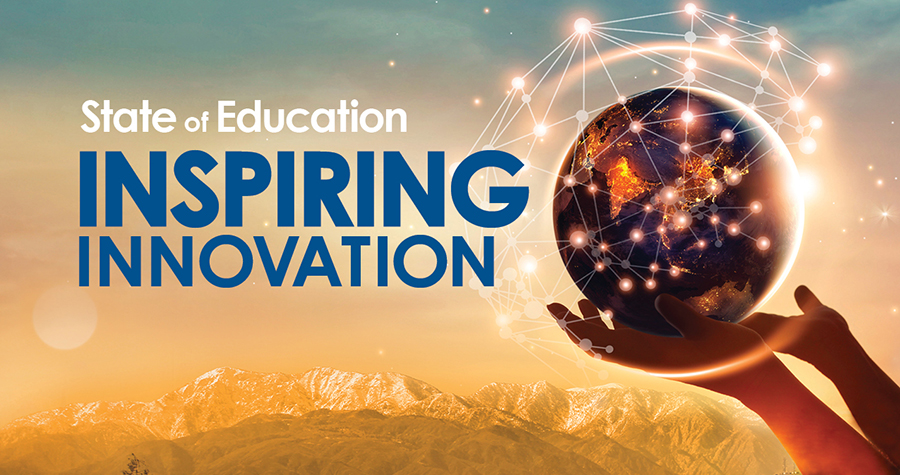 - View the San Bernardino video
Five years ago as we began this journey, we aspired to transform lives through education by inspiring engagement, connection, collaboration and innovation. Working in collaboration with school districts, other agencies, families and our community partners, we provide leadership, advocacy and services to ensure innovative, inspiring educational practices. This is, in fact, our mission, and we believe deeply that it is essential to the quality of life and economic vitality of our communities.
Shared Vision
We have worked closely with our communities in the development of a Countywide Vision where education is a top priority. Here, we share the belief that all children receive the support and resources necessary to become productive members of our communities because we want the best for them. We know that in order for our students to learn, live, work and play in healthy and safe communities, it starts with education from cradle to career.
In the county, we are leading ahead of the curve once again. Gov. Gavin Newsom has allocated $10 million in the education budget for the development of the California Cradle to Career Data System, a strategy for linking the state's education segments from preschool to college and into the workforce, which our county has been working toward for some time with our Cradle to Career Roadmap.
Inspire
We have sought to inspire everyone in our education system, from our superintendents and board members to our committed teachers and classified staff. We have inspired and engaged our local and countywide government agencies, law and safety partners, healthcare partners, our faith-based communities and non-profits, labor and industry, and of course our families, to create opportunities to learn, thrive and succeed for each and every one of the 406,000 students in county public schools.
-View our Inspire Video
Engage
So that students and schools do not make that climb alone, we have engaged with our countywide community in a Collective Impact approach to be the pillars of support for students. We believe there is strength in unity and have built visible and deep-seated partnerships that align with our mission and beliefs, which provide a framework for defining common purpose, cultivating strategic change and inspiring innovation.
-View our Engage Video
Countywide Vision for Education
Collective Impact initiatives that focus on the early years of the Cradle to Career Roadmap include the Countywide Vision2Read, Footsteps2Brilliance and Quality Start San Bernardino, all working to support our youngest children and their families with access to high-quality child care, early learning and family literacy programs.
At the Desert/Mountain Children's Center, the CARE project -- which stands for Comprehensive Assessment Research and Evaluation -- imbeds a trauma-informed, early intervention approach into the school culture, to ideally build personal connections with children on a daily basis. In addition to County Schools, partners include First 5 San Bernardino, County Preschool Services, Child Care Resource Center, Children's Fund, the Desert/Mountain Children's Center and California State University, San Bernardino.
Promoting Social/Emotional Wellness
We are educating students in a time of unprecedented stress, and an increasing number of our youth are in crisis as a result of events and forces beyond their control. This is evident in our communities and our campuses, which is why our partnerships with health providers and law and safety officials have never been more critical. A number of inter-agency and school district efforts are taking place to prepare and provide for school staff and other providers to be more versed in building positive school cultures in support of students.
One large collective impact effort that addresses the social and emotional health and well-being of students and staff is the annual Southern Region Student Wellness Conference, a multi-day event designed to empower educators, mental health providers and school law enforcement to create positive change on school campuses. This year's conference in July was the largest ever with more than 700 attendees.
Community Engagement Initiative
County Schools has taken a statewide leadership position with a consortium that focuses on developing stronger family and community engagement across California schools, districts and county offices of education. County Schools was the sole county office of education in the state to be awarded a $13.2-million grant for the statewide Community Engagement Initiative to lead the consortium along with the California Association for Bilingual Education (CABE), Los Angeles-based Families in Schools and the California Collaborative for Educational Excellence.
The initiative is part of California's statewide System of Support to build capacity in school districts and support the continuous improvement of students and schools. In the first year of the five-year grant, six pilot districts across the state are participating, including Ontario-Montclair.
Advancing Career Technical Education
Our office of education and schools throughout the county are engaged with government and business partners doing the important work of giving both our teachers and students the information and tools they need to prepare our youth for the world of work. The Alliance for Education, San Bernardino County Workforce Development, Regional Occupational Programs, Linked Learning, Career Pathways and Career Technical Education (CTE), and the Mountain/Desert Career Pathways Partnership are diving deep into identifying and providing the skills our students need to be productive citizens in a global economy.
Those representing our partners in industry know that California manufacturers already struggle to fill open positions. The nationwide "skills gap" of unfilled jobs is estimated to ready 2 million by the year 2025. We need a pipeline of skilled workers who have the technical, academic and hands-on training to fill these jobs.
It was thrilling when San Bernardino County became the epicenter for the statewide SkillsUSA Conference and competitions last spring as the Ontario Convention Center hosted more than 3,000 career technical education students from California. Our county – representing 12 districts including Adelanto, Apple Valley, Barstow, Colton, Fontana, Helendale, Hesperia, Ontario, Redlands, San Bernardino, Snowline and Victor Valley – had spectacular results in statewide competitions in April. With 330 county students attending the statewide conference, 81 of those placed with either gold, silver or bronze awards in business and industry competitions.
One more piece of good news for career technical education in our region – Ontario again will host the statewide convention and skills competition in April 2020 after hosting the largest-ever statewide convention earlier this year.
Helping students transition from the classroom to the workforce is being addressed with the GenerationGo! Career Pathways Program. It established by the San Bernardino County Workforce Development Board with support from private businesses, government agencies, K-12 school districts and community colleges to train the future workforce in the region for high-demand, high-wage jobs of the future. GenerationGo! prepares students to end the workforce through career exploration and planning, interview preparation, job search strategies, communication and workplace skills development.
High School Graduates
For the first time since the California Department of Education began using its statewide student identifier for data in 2009, county high school students exceeded the statewide average in graduation rates. For the 2017-18 academic year, the four-year adjusted cohort grad rate is 83.4 percent for county students, topping the state rate of 83 percent.
There also has been progress in closing achievement gaps among subgroups of county students. The difference between White and African American grad rates has closed to 7.1 percent, well ahead of the achievement gap of 13.7 percent statewide between the two subgroups. Hispanic county students are within .3 percent of White students in their grad rates, also far ahead of the statewide difference of 6.4 percent between the two subgroups. County averages for English learners, foster youth, homeless students, students with disabilities and socioeconomically disadvantaged students all exceeded state averages.
Equity
In looking at countywide data as it relates to equity, our districts, students and families have worked particularly hard to move this needle so more and more of our students are graduating prepared for postsecondary options. Yet still, gaps remain between learning outcomes, graduation rates, college readiness of students and chronic absenteeism based on ethnicity, socio-economic status and zip code.
We share a great responsibility to advocate for those not able to do so themselves, to be responsive to students in culturally sensitive, strategic and intentional ways, and to effectively serve students of any and all marginalized groups. County Schools is demonstrating our commitment to equity by bringing on board a chief of Equity and Access to support all of our students, schools and districts.
Innovate
In today's global economy, education becomes even more important for developing the next generation of innovators and creative thinkers. Today, students must be prepared to continually learn new skills throughout their lives for a future we cannot predict. They must acquire knowledge, competencies and mindsets that prepare them to be productive members of a modern workforce in a world powered by technology.
Innovation is developing creative solutions for complex problems that bring value to an ever-changing world. We are fortunate to have district leaders and teachers throughout the county working with private sector entrepreneurs to spur innovation so learning is engaging and relevant.
Models Of Excellence, Innovation
Innovation and collaboration are helping to power strong educational partnerships with Garner Holt's Education Through Imagination. Holt -- a world-wide leader in the production of animatronics who grew up in San Bernardino -- started an educational component of his company two years ago that is sparking young minds. Education Through Imagination has worked with Redlands Unified to develop ani-maker spaces at Franklin and Victoria elementary schools where students experience integration of hands-on science, technology, engineering, arts and math.
The group also has worked closely with San Bernardino City Unified, specifically with Arroyo Valley High, to institute a ground-breaking, boot camp called Ani-Vation. Ani-Vation combines Arroyo Valley's linked-learning academies with innovative practices in animatronics to fuel problem-based learning opportunities.
-View our Innovate Video
Innovating for Equity
Recognizing that not all students are destined to go to college right out of high school – especially in a rural and remote region of the county – Morongo Unified is focusing on equity through innovation by knocking down educational barriers that can often stand in the way for students from low socio-economic backgrounds. Through its Academy of College and Career Excellence, Morongo offers CTE programs for students from all three of the district's high schools. Students are empowered to discover their interests and strengths and graduate high school with certifications in fields such as cyber security, information technology, unmanned aerial vehicles, criminal justice, culinary arts and nutrition.
The academy's opeing just last school year is the result of a basin-wide partnership and pooling of resources between the community and its schools. It offers students a centralized hub for career technical education.
Innovating for Sustainability
Rialto Unified's STEM CARES program identifies locally relevant environmental issues to inspire students to think globally and innovate with an eye toward protecting our planet's resources for future generations. Rialto was one of only 14 districts in the nation and the only one in California to be honored with a Green Ribbon School District Sustainability Award from the U.S. Department of Education. Rialto also is one of only five California "Green Achievers," the highest honor in the California Green Ribbon Schools recognition program.
Technology, Education and Design
A defining experience for students and an entire school community was the opportunity for Colton High students to host a TEDx event last spring. After a year's worth of work and commitment, more than 100 Colton High School students were granted the exclusive license, which provides communities the opportunity to share TEDx experiences with others across the globe.
Colton students chose the theme of mental health and wellness and tapped Colton High students, district staff and Colton Superintendent Jerry Almendarez to lead discussions, which were published on the TED website. The talks garnered more than 4,000 views overnight.
Moonshots
In Fontana Unified, district leadership has mobilized around the 50th anniversary of the moon landing to inspire innovation among staff and students. In 1962, President John Kennedy characterized space as the new frontier. In the spirit of Kennedy's commitment to exploring new frontiers, Fontana staff members are encouraged to push their expectations and imaginations to new heights and develop their own "Moonshots." The approach has ignited a new culture, propelling greater student opportunities and achievements. Moonshots have resulted in a number of innovations for the district including Southridge Tech Middle School being recognized as a Microsoft Showcase School. In August, a team of second- and third-graders from Randall Pepper Elementary represented the region at the World Robotic Olympiad in Denmark and brought home the top honor in the World Friendship Challenge for their ability to connect and collaborate.
Conclusion
World leaders in innovation often refer to the term VUCA, which stands for volatile, uncertain, complex and ambiguous. It was a term I first learned during my service in the Air Force. Complexity is the "C" component of VUCA, that refers to the interconnectivity and interdependence of multiple components in a system.
Our world is growing more complex daily. In many parts, it is volatile and uncertain. It challenges us with problems to be solved and opportunities to create dynamic and innovative solutions.
At this particular moment in our country's history, we must lean into the boldness of pushing the limits of what is possible. We must pool our dreams and work collaboratively to push for transformative innovation in our schools now. We must inspire innovation on a global scale, lest our students be left behind. Our communities and our cultures are interconnected and interdependent. We must never forget that we have the power when we work together. Thank you for the amazing contributions made to prepare our young generations for their future.
We are inspiring innovation.