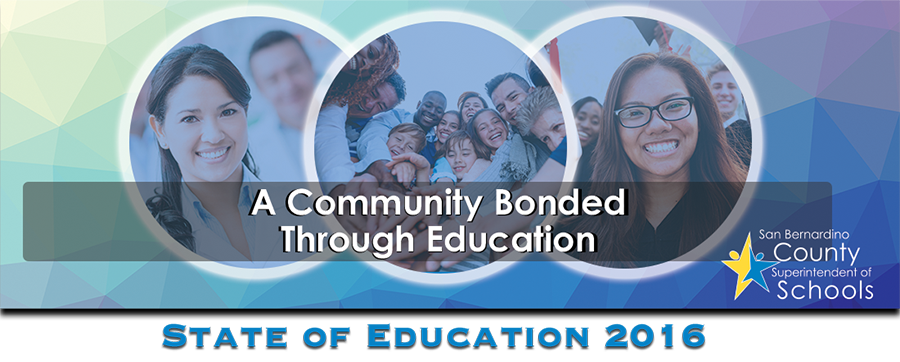 View the San Bernardino address video here.
View the Victorville address video here.
In San Bernardino County, we are a community bonded through education; a community sharing a countywide vision to see that all students are prepared for success, from cradle to career; a community of fierce advocates for the high academic achievement of all students bound by the promise of future generations.
We are a community emboldened in determination; committed to the needs of our diverse student populations; and inspired by their promise and optimism. By linking arms with each other, sharing a common vision and serving as a catalyst for collective change, we have been able to generate impact on a countywide level that is far greater than if we acted alone.
A Community That Places Students First
Our work and action has spurred a number of successes over this past year since I delivered my first State of Education Address. As we review the 2015-16 school year, we take note of important firsts for public education in San Bernardino County; we recognize the progress of our students with support from staff, families and community; and we renew our deep commitment to transform lives through education.
Exercising the power and purpose of student voice, a first for the high school students serving on the countywide Student Advisory Panels was the opportunity to present their recommendations for positive school and community social change. More than 150 students representing 41 high schools collaborated in workgroups to develop presentations in the areas of economy, education, safety, and health and wellness – areas identified as priorities in the Community Vital Signs Transformation Plan.
The culmination of student efforts was realized in final presentations to a panel of elected officials and policy makers who listened intently to student proposals and opinions. When students see that their voices are being heard and influencing decisions, and they are invited to act as leaders in the process, a collaborative community of learners is formed. One of the panelists was Lorena Corona, board president for the Fontana Unified School District.
Video - A Community of Learners
Our students are going to be our next leaders. By seeing how they can make an impact by working together in collaboration, they are inspired to reach for their dreams; they are inspired to persevere. They are inspired to achieve greatness.
To inspire us, Aiden Low, a fourth-grader at Charlotte Werner Elementary School in Rialto Unified, will recite the poem, "Dreams," by the great African American poet Langston Hughes.
Mathew Robinson, who so graciously introduced me earlier, is a story of perseverance and aspiring to reach your dreams. Not only did Mathew participate on the Student Advisory Panel, he delivered the commencement address for the first-ever graduating class for County Schools' Student Services programs. It was an honor to congratulate each of the 32 members of the class as they crossed the stage and received their diplomas.
I cannot begin to tell you how proud and impressed I am with Mathew and his classmates. With forthright and honest encouragement and care from our administrators and staff, our students often experience a connection to school and a will to succeed for the very first time, because we instill in them the belief that our future doesn't have to be determined by our past.
I am so pleased that Mathew is continuing his education and pursuing his dreams. What a transformation to see in the life of a young man, who a couple of years ago did not think he would graduate from high school. I have attended many commencement ceremonies, and it's always great to see the smiling faces and tremendous excitement. Let's take a look.
Video - A Community of Graduates
A Community Of Collaboration
The Student Advisory Panel and Student Services graduation were among a range of firsts as part of our Countywide Vision and Cradle to Career Roadmap to ensure all of our students have the best opportunities for success and graduate prepared for college and careers. Everything the Countywide Vision seeks to accomplish hinges on our community working as a team to keep young people safe, keep them healthy and establish an environment in which youth can aspire, achieve and become successful adults.
In an important step toward confirming the region's commitment to Collective Impact and the success of our youth, the Colton City Council adopted a resolution in support of the county's Cradle to Career Roadmap, making it the first city in San Bernardino County to formally endorse the initiative. The beauty of any first is that it brings about a multitude of others.
Cities throughout our county are recognizing how Collective Impact can change the quality of life and prosperity in the region. Last winter, nearly 200 city officials joined with school district superintendents and board members in a jointly sponsored gathering of the League of Cities to share strategies to improve outcomes for children, families and the greater community through intentional alignment of services and resources.
Through collaboration, community-school partnerships enhance delivery of services. Which is why the Baldy View Chapter of the Building Industry Association hosted the first-ever BIA Education Summit earlier this month to have a solutions oriented dialogue about the future needs of our public schools. Educators, builders, policy-makers and community stakeholders identified opportunities for collaboration and strategies to fuel collective impact forward to prepare the next generation for the workforce of tomorrow.
Another first this year, our Alignment San Bernardino County portal received and launched its first two Invitations to Participate. Alignment San Bernardino County is being coordinated through the work of the Alliance for Education and in collaboration with Cal State San Bernardino and the Inland Empire Economic Partnership.
It is the seventh and largest community in the nation to join the Alignment USA network, a national network of Collective Impact initiatives engaging a range of cross sector community stakeholders to improve conditions for youth and the quality of life in their communities.
Video - A Community of Collaboration
A Community College-Bound, Career-Ready
With this end in mind, County Schools is partnering with the American Council on Education, AVID Center, University of California, California State University and 23 of our county's high schools to create a school-wide college application day as part of the American College Application and Success Campaign.
The campaign is focused on increasing college and financial aid applications, and enrollment to post-secondary institutions by all seniors at the participating schools. Another partnership aimed at seeing that more of our students are prepared for post-secondary options is a pilot program with County Schools, Apple Valley, Chaffey, Hesperia, Morongo, Upland and the College Board to support administration of pre-college testing to the entire 10th grade cohort this fall.
In the Chaffey Joint Union High School District, a district-wide focus on college and career readiness is resulting in more and more of the district's students completing A-G coursework. From 2006 to 2016, the district more than doubled the A-G completion rate of graduating seniors by gaining 32 percentage points, exceeding both the county and state rates.
We are seeing more investment coming to our region for college and career readiness – with more than $2 million in grants supporting our efforts. One comes to our Linked Learning Regional Hub of Excellence -- one of four statewide models selected by the James Irvine Foundation. Participating districts are expanding career pathways that offer rigorous academics coupled with relevant career-technical education in the region's most in-demand industry sectors.
School districts and ROPs across our county have benefitted from California's Career Technical Education Incentive Grant program, the largest of its kind in the nation. San Bernardino County ROP received $1.5 million, which will support emerging labor market needs in the field of information and communications technology, primarily in the emerging cybersecurity field.
Another high demand field for our region is the healthcare industry. San Bernardino City Unified, San Manuel Band of Mission Indians and Loma Linda University Medical Center are stepping in with the first of its kind school in the nation to fill the void. The San Manuel Gateway College, which was supported by a $10 million donation from San Manuel, will integrate training programs in health careers with clinical experience, allowing students to benefit from mentoring by Loma Linda faculty and students.
By offering a number of health career certificate programs, the college truly will serve as a gateway for students to enter employment in the health industry or receive college credit for students who elect to further their education. I am encouraged by the growing support and commitment from partners such as Job Corps, Linked Learning, the College Board, our school districts, higher education, city and county government, and community stakeholders in these many collaborative efforts.
A Community Committed To Wellness
Creating strong and healthy school and community environments for students, staff and families is the goal of County Schools' first countywide Wellness Strategic Planning Initiative. A growing body of research shows that supporting students and families with emotional wellness early on can help students be successful in school and into their adult lives. Research by the National Alliance on Mental Illness shows that behavioral health issues during adolescence contribute to more than half of all instances of students dropping out at the high school level.
One-in-three of California's children live in poverty and are faced with social and economic factors that often place them at a disadvantage for learning at home and at school. We are breaking ground on comprehensive, school and community-based approaches to wellness that support the whole child and lead to improved academic performance.
Upland Unified will soon open one of the few school-based counseling centers in the county to provide mental health services. The district also has a nationally recognized school nutrition program, with three of its elementary schools honored earlier this year by the U.S. Department of Agriculture. County Schools' own Student Services Counseling Center provides much needed support, empathy and stability, knowing that such assistance is critical for students to do well in school.
Video - A Community of Wellness
The research-proven program Positive Behavioral Interventions and Supports -- or PBIS -- is making major strides in creating a more positive culture at our schools and supporting student wellness. PBIS is a proactive approach to establishing the behavioral supports and social culture needed for all students in a school to achieve social, emotional and academic success.
Countywide, we are approaching more than 250 schools in 28 school districts, alternative education settings. In the East Valley and West End of the county, 113 schools representing eight districts will be receiving bronze, silver and gold medals from the California PBIS Coalition Awards. Colton, Fontana, Morongo, Ontario-Montclair, Redlands, Rialto, Rim of the World and San Bernardino City had award-winning schools. Ontario-Montclair has five schools receiving gold medals.
The positive outcomes of such programs have made inroads in reducing discipline referrals, and helping achieve declines in suspension and expulsion rates.The number of suspensions has dropped 30 percent from 2011-12 to the most recent released data for the 2014-15 academic year. The expulsion rate has dropped 23 percent over the past three reporting years.
At County Schools, we also continue to grow services for foster youth and homeless students. Our first Expanding Horizons College and Career Fair in August saw more than 150 foster youth and homeless students applying for colleges and financial aid. We also began a homeless youth ambassador program this past year, connecting ambassadors with unaccompanied youth, and assisting them with services and resources. Our disenfranchised and at-risk youth want to be successful, but many need a network of support services to develop a plan for the future.
With the recognition that closing the excellence gap for significant subgroups of students increases academic outcomes for all students, the Countywide African American Task Force for Student Achievement recently published its final report. Dr. Kennon Mitchell facilitated the task force, which examined leading indicators related to the performance of African American students, perspectives of students and parents, and the impact of race on school culture and systems.
The Task Force report makes recommendations for a Collective Impact approach to scale effective school practices that foster high levels of student achievement for not only African American students, but all students in San Bernardino County. A great example of just one of the promising practices highlighted in the report is The Fella's Men Mob.
Video - A Community of Support
History shows us that the most significant, systemic transformations occur when communities intersect to make big change. The arts and history intersected when the Kinsey Collection of African American Art and History came to San Bernardino last school year. Bernard and Shirley Kinsey began the touring exhibit of more than 400 years-worth of rare art and historical artifacts that tell the untold story of African American achievements and contributions.
Video - A Community of Diversity
We come from many backgrounds, and we represent many different cultures, thoughts, ideas and influences. Together, we can celebrate and appreciate the culture, history and experiences we have all shared and bring them together as one community. When our youth are able to understand and appreciate the unique contributions and experiences of others, we make our schools and communities stronger and better.
No other event in the past year demonstrated just how strong we are as a community then the tragic events of Dec. 2. We honor those who lost their lives, and their families and loved ones. We must also recognize our first responders and partners in law and safety, many who are represented here. For all of our partners in school and community safety, please stand as we acknowledge you. Our communities are made strong because of your bravery, compassion and service above all else. We are SB Strong.
In honor and remembrance, please join me in the welcoming the Mountain Top Strings Quartet performing the selection, "Deep River," under the direction of Ms. Sharon Rizzo. Each of the players of the quartet have been actively involved in our Countywide Honor Orchestra, having all been selected as winners of Solofest and awarded principal of their section or concertmaster.
To Lead, Advocate and Serve
As we continue to "fight the good fight," we are aiming high – as educators and with our partners in business, government, community and faith-based organizations – with limitless determination to do what's right by our students. We see it as a moral obligation to work across boundaries to ensure we are a community that supports the success of every child. At the County Schools office, our purpose is to lead, to advocate and to serve -- on behalf of every student. We will continue to lead with our focus on preparing all of our students for success, cradle to career. For the first time, the county graduation rate exceeded 80 percent for the Class of 2015.
Among the graduates, the percent of students meeting A-G requirements has increased 9.5 percentage points over the past five years growing to 34 percent. While we celebrate the growth we have seen, we know we must accelerate this upward course. That's where programs like Advancement Via Individual Determination -- or AVID -- create a community of college bound students.
Last school year, a record number of 2,300 students in our county were recognized at the AVID Senior Recognition event. Ninety-nine percent of our AVID students graduated high school, and 96 percent met A-G requirements for acceptance into the UC and CSU systems.
It is worth noting that our region has the largest concentration of AVID programs anywhere in the world. With such a high success rate we will continue to be advocates for AVID.
With a focus on literacy, we will advocate for a community of readers as part of the Countywide Vision2Read initiative. Because the ability to read by third grade is one of the greatest indicators of a child's future academic performance and success in life, our countywide Library Collaborative of school and community libraries share multiple programs and resources, and a wealth of professional capacity. When we align our resources and unite together around complex issues we enhance the effectiveness of our services.
Video - A Community of Readers
We will advocate for transparency and serve as a model for community engagement. Today, we are launching the first countywide Open Data Portal primarily focused on improving student success outcomes from Cradle to Career. San Bernardino is the first county office of education in the state to pursue using an open data portal to provide transparency of and access to education data with the goal of engaging our publics, informing decision making and providing a continuum of services to improve conditions for our youth.
Sometimes we must be willing to embrace risks and fail forward to create transformative change. Such was the case earlier this month when the State Board of Education moved one step closer to finalizing a landmark accountability system for California public schools. The accountability system is among the most rigorous and ambitious in the nation, with the goal of ensuring our state's public schools are preparing students for success in college and 21st century careers.
Rather than using just one number to measure school progress, as was the case with the Academic Performance Index, the new system is driven by a rubric of performance indicators such as student test scores, graduation rates, attendance, and college and career readiness. Multiple measures will give parents, teachers and community members a better idea of what is happening at their schools and how well schools are meeting statewide educational priorities as well as goals defined in district Local Control Accountability Plans.
Among county offices of education statewide, ours was the first to develop a model that provides a multi-faceted team of experts to support districts in the cross-development of their budgets and LCAP, while working collaboratively with districts in continuous improvement. Of course, the most crucial and important changes are what is happening in classrooms where teachers are teaching to the new rigorous state standards and students are gaining mastery on higher level thinking skills.
It is because of their hard work, we saw improvements across the board, in both math and English language arts, when the California Assessment of Student Performance and Progress results were released just last month. The state superintendent of Public Instruction announced yesterday that 29 California schools have been selected as 2016 National Blue Ribbon Schools, two of which hail from our county. Congratulations to Richardson Prep High in San Bernardino and University Preparatory in Victorville for their achievements in student performance and closing achievement gaps. Success can mean different things for many of our students.
For the students served in county special education classrooms, each incremental success leads to a more productive future. What may seem like small progress to one person can be huge for another. No test can tell you that. The teachers that serve our special education and at-risk students are highly skilled and share a deep commitment with the 18,000 teachers across the county to provide the very best educational experiences for all of our students. Let's give all of our teachers a well-deserved round of applause.
The new accountability system is a more complex picture of how well schools are doing, but reflects the fact that there are a number of elements that contribute to great schools. One of those elements is the arts.
I could not speak to you today without sharing with you our first countywide Celebration of the Performing Arts Showcase that took place in the spring. Joining a series of signature Student Events offered through County Schools, the Celebration of Performing Arts showcased a variety of student groups from county school districts performing to a full-house right here at the California Theatre. The research is undeniable.
Arts education boosts student performance, closes achievement gaps and helps keep students at-risk of dropping out in school. If that were not enough, arts education also is proven to improve motivation, confidence and teamwork, and forges social bonds and community cohesion.
During the Celebration of the Arts, one of the most powerful things that was so heartwarming to witness -- in addition to the stellar performances -- was the genuine collaboration, care and support students from all schools showed for their fellow student artists throughout the county.
The Vernon Middle School Chamber Singers from the Ontario-Montclair District was one of the groups that performed at the celebration. The group's energetic talent demonstrates a true love for the performing arts and drew great praise from the audience. Please join me in welcoming them today, under the direction of Ms. Susan Schultz.
Video - A Community of Arts and Culture
Conclusion
We have real opportunity to change the trajectory of our county and launch our schools and communities into a future that provides all of our students with opportunities to fulfill their boundless potential. In a world of complexity, challenges and change, ours is a community with a roadmap for success; a community that unites together to get things done; a community building a brilliant tapestry of alliances and partnerships on behalf of our youth; a community that fully embraces the mantra that, "If you want to go fast, go alone; if you want to go far, go together."
We are that community.
We are a community transforming lives through education.