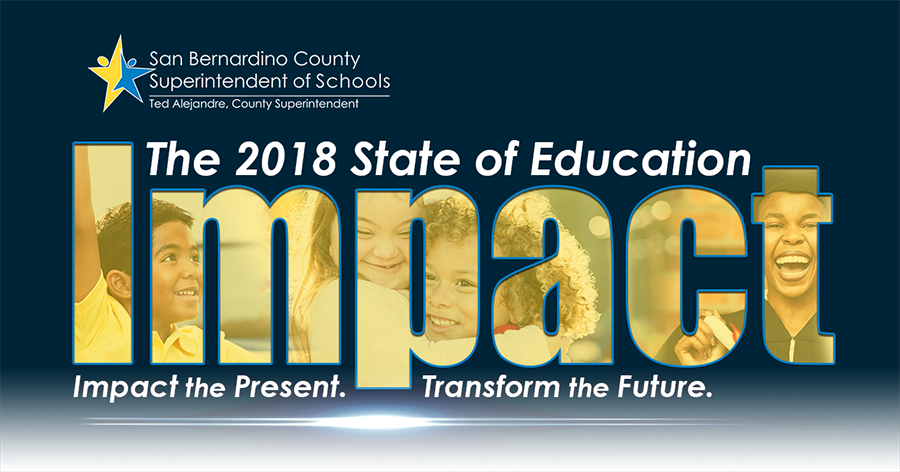 -View the full address on our YouTube channel
Introduction
Each day brings opportunities to make an impact on the people and world around us. In the past four years as your county superintendent, I have seen first-hand the impact of committed, dedicated and selfless individuals to transform lives through education. Our district superintendents and their staff are on the forefront of seeking innovative solutions to meet the needs of all students with passion and purpose.
Outstanding Work By Districts
Just one of many highlights from Chino Valley Unified is the focused emphasis on STEM education offering students multiple career pathways in science, technology, engineering and math. Colton, Etiwanda, Rialto, San Bernardino and Yucaipa-Calimesa share a strong commitment to family and community engagement through far-reaching efforts to develop community cabinets, parent leadership and engagement opportunities where all stakeholders contribute to the betterment of schools in the community.
Speaking of Etiwanda, the district was named as one of only 22 Exemplary School Districts in the state. Fontana Unified is just one of the districts in our county that has seen steady increases in graduation rates, due to strong International Baccalaureate and AVID programs with Fontana High being one of San Bernardino County's nine AVID National Demonstration sites. Redlands Unified is one of our strongest contenders in student academic events. The district's Mock Trial teams have taken the top spot in the countywide event 21 times over the past 25 years.
In Upland Unified, the district has taken multiple steps to support students' social, emotional and physical wellness, and boasts a national demonstration site for PBIS. Ontario-Montclair and Chaffey Joint Union High School District have formed a unique partnership through their Promise Scholars program preparing all students to meet A-G requirements and instilling strong aspirations for post-secondary education. Cucamonga is an early adopter of the California Collaborative for Educational Excellence Professional Learning Networks aimed at building excellence districtwide through all aspects of local control.
Central and Mountain View are among our most progressive elementary school districts in the use of technology to increase the capacity of teachers and enhance the richness of classroom instruction. Morongo students have tremendous opportunities for career-based programs as a result of the district's strong commitment to career technical education. Rim of the World also can be credited with strong CTE programs, particularly their Fire Technology Training program.
Bear Valley was one of three county districts to join us in the launch of our new Cyber SB program at Big Bear High School. Alta Loma has prioritized safe school environments through a series of facility improvements, equipment updates, security advances and new technology. And the SELPAs and ROPs in this county are among the finest in the state, providing districts with the highest quality programs to serve the unique needs of their student populations.
In our rural districts, which are some of our smallest—Baker, Helendale, Lucerne Valley, Mt. Baldy, Oro Grande, Needles and Trona—even with the challenges of your remoteness and limited resources, when it comes to quality, size is not an obstacle.
As proof, Needles superintendent Mary McNeil, was named state superintendent of the year by the Association of California School Administrators.
And Lucerne, just earlier this month, opened a comprehensive STEM Lab where elementary students are conducting simulations and experiments in a controlled environment, preparing them for college, training and career choices.
In our school districts in the high desert communities—Adelanto, Apple Valley, Barstow, Hesperia, Silver Valley, Snowline, Victor and Victor Valley—you are a tremendous network of support to each other and have led the way with a number of innovative programs designed to develop higher education and skill levels to benefit your students and the region's workforce.
The Mountain/Desert Career Pathways JPA is an outstanding example, providing students with the opportunity to earn credit for college coursework while completing their high school education.
For the 2017-18 school year, 1,946 articulated grades were awarded to high school students from Victor Valley College through articulated CTE courses.
Victor Valley Union High and Helendale School Districts must be commended for their bold steps to participate in the California Collaborative for Educational Excellence leadership pilot, paving the way for other districts to replicate promising practice for continuous school improvement.
Victor Valley Union High also boasts a cutting-edge program at Cobalt Institute of Math and Science, named as one of only 110 Project Lead the Way Distinguished Schools across the nation.
Hesperia Unified received national recognition from the U.S. Department of Agriculture for the outstanding contributions of those who work to offer nutritious summer meal programs to benefit families and communities.
The district served more than 10,000 meals to students over 16 days, and was the only district in California, and one of 17 nationally, to receive the Gold Turnip the Beat Award.
Morongo students have tremendous opportunities for career-based programs as a result of the district's strong commitment to career technical education.
Our community colleges have placed emphasis on new and modernized school facilities to train the next generation of firefighters, health care professionals, engineers and technicians. Our small, rural and High Desert school districts also share many achievements and accomplishments. Here is just a glimpse of how our school districts are positively impacting more than 403,000 students in San Bernardino County…
Collaboration Supporting Public Education
Preparing a rising generation for the new global economic and civic environment is a shared responsibility. In San Bernardino County, we have joined together to create a countywide vision that looks to all sectors of the community to support the success of every child from cradle-to-career. These partnerships are critical to the success of our students and schools, and the quality of life and economic vitality of our communities. Together, we look to transform the lives of students and families through education, collaboration, innovation and opportunity.
Just one of the powerful partnerships gaining momentum throughout the high desert region is the Mountain / Desert Economic Partnership.
The Mountain / Desert Economic Partnership is a collective impact initiative that includes K-12 and higher education, business and industry, government and community working together to build better opportunities for the future of the region's students.
MDEP partners look to advance economic, educational and societal growth in the high desert region over the long-term through education and training, innovation and tiered economic opportunity.
-Mountain Desert Economic Partnership Video
Their strong vision and collaborative spirit are moving the region's communities, businesses and economy forward, and preparing our students to lead and work in the region during a time of growth and opportunity.
Collective Impact
Through the San Bernardino Countywide Vision, we are building Collective Impact collaboratives that produce results. Guided by our shared vision of a stronger future for all in the Inland Empire, we are seeing the impact we make by working together. Colton Joint Unified has been a strong supporter of the Cradle to Career Roadmap and goal to bring together all sectors of the community to support every child from the get-go. The district was the first to establish a community cabinet, and the cities of Colton and Grand Terrace were first in the county to adopt the Cradle to Career Roadmap.
In the past five years, Colton has set the gold standard in the development and application of how successful community cabinets work. The Colton Community Cabinet has fostered tremendous support from students, families, government, business, labor, civic and community groups resulting in a number of successful programs including the first districtwide college and career fair, and internship opportunities for students. The district's strong collaborative spirit is on display today, evidenced by the contingent from the Colton district and community. Congratulations Superintendent Jerry Almendarez, staff, board members and parents; and thank you for the impact you make in the lives of students.
-Colton Community Cabinet Video
Growing Inland Achievement
Another Collective Impact initiative is the Growing Inland Achievement collaborative with Cal State San Bernardino, the University of California, Riverside, Inland Empire Economic Partnership, Riverside and San Bernardino County Offices of Education and area community colleges. Growing Inland Achievement is geared toward improving educational attainment rates throughout the larger Inland Empire region as a means of producing a higher educated workforce and furthering economic progress.
For the past two years, UC Riverside's Graduate School of Education has offered its AP Readiness Program to Riverside County school districts. With a grant award of $150,000, the AP Readiness Program is expanding to districts in San Bernardino County.
Data indicates that students who attended AP Readiness seminars have a 20 percent higher passage rate on end-of-year exams. The goal of the grant is to increase the rate of qualifying scores for AP test-takers 15 to 25 percent in two years and increase college going rates in both San Bernardino and Riverside counties. Growing Inland Achievement is just one example of how we are working together across both counties to benefit students. Riverside County Superintendent Dr. Judy White and I share the same mindset in moving our region forward and looking at how we can capitalize on the strengths of both counties to excel the Inland Empire together. Thank you, Dr. White, for your partnership and leadership!
Raising The Bar For Literacy
As part of the Countywide Vision2Read, Footsteps2Brilliance is a collective impact initiative involving County Schools, County Preschool Services, Children's Fund and First 5 San Bernardino, working collaboratively to increase literacy rates among children and families. This innovative early learning mobile technology platform provides free access to early literacy activities to all families with children birth through pre-kindergarten who reside in the county. Since its inception, county preschoolers have read more than 895 million words and more than 2.8 million books with a 79 percent reading comprehension level.
Given the success of Footsteps2Brilliance in just two years, the program was honored with a prestigious Partners in Educational Excellence Award from the Association of California School Administrators.
Countywide Vision4Safety
Following the success of Vision2Read is Vision4Safety. The Countywide Vision4Safety campaign aims to bring county residents together to create safer neighborhoods, schools and workplaces. Often, when we think about safety, the first thing that comes to mind is crime and violence, including the unfortunate reality of violence on school campuses. This past year, County Schools brought on board a highly experienced safety officer to support our classrooms and school districts in school safety planning, including equipping school communities for active shooter response should such an emergency arise.
We don't need the research to tell us that children living in violent environments experience trauma that is related to an increased likelihood of low test scores, chronic absences and dropping out of high school. The high schoolers on our Student Advisory Panels tell us that they and their peers are looking to schools for reliable, caring and compassionate adults to form trusting relationships and teach them the skills necessary to cope in and out of the classroom.
Expanding Social/Emotional Wellness
More and more, we are focusing on systems to support the social and emotional wellness of our youth as a key anchor of student success in school and in life. This includes a major focus on building safe and relationship-oriented school climates, mental health awareness and treatment, and suicide prevention. The Southern Region Student Wellness Conference is an annual event coordinated through multi-agency collaboration that brings together thousands of educators, mental health and social service providers, school counselors and school resource officers to delve into the complex social issues many of our students are facing. The theme of this year's conference, "With great power comes great responsibility" focused on preparing attendees with new found knowledge, strength and courage to advocate for children that cannot advocate for themselves. As educators, this is our responsibility.
Building Positive School Cultures
Sometimes, a student's need for social-emotional competency can be a matter of life and death. Suicide is the second leading cause of death for young people between the ages of 10–24. We cannot be afraid to have the difficult conversations necessary to support our young people most in need. Countywide, individual districts are increasing mental health services to provide additional support.
Our County Schools' staff works closely with San Bernardino County Department of Behavioral Health to provide counselors, therapists and mental health experts to support students, staff and families, and offer applied suicide intervention skills training for school staff. Schools offer a safe environment where mental health services are not only appropriate, but essential to ensuring the physical, emotional and social safety of students, while addressing learning barriers and teaching problem-solving skills that are applicable in and out of the classroom.
Two programs that do just this are showing tremendous results in our schools. Multi-Tiered System of Support is a framework that provides targeted support to struggling students, focusing on the "whole child." The system is founded upon inclusive academic, behavioral and social-emotional instruction to enrich and heighten student achievement. Grants totaling $650,000 were awarded to County Schools and 13 partner school districts for training and capacity building.
Improving the culture and inclusiveness of our schools is the goal of Positive Behavioral Interventions and Supports – or PBIS.PBIS creates a culture of collaboration and shared responsibility among staff, students and families to foster safe and welcoming school environments, and move students from violence, bullying and negative behavior toward respect, kindness and compassion. The impact that PBIS has made on our schools can been seen in the phenomenal drop that has taken place in both suspension and expulsion rates. During the past six years, we have seen a decrease of more than 30,000 suspensions countywide and the number of expulsions has decreased by one-third. More than 350 schools in our county participate in PBIS, and 246 of those schools received awards from the California PBIS Coalition this year. The most gratifying reward is seeing increase student performance and wellness because of the positive culture taking shape on their campuses.
Providing Educational Opportunities
Districts countywide are putting diversity, equity and inclusion at the center of leadership, practice, engagement and achievement. The California School Dashboard data reveals that our public schools need to do much more to support the unique needs of our students with disabilities. Our collective approach as a county is to focus on uncovering solutions to better support these young people with the strong belief that when we improve teaching and learning for students with disabilities, all children will succeed.
Our Student Services programs at County Schools are some of the most ground-breaking with highly skilled and specialized staff serving our most fragile students. Our programs provide hope to students and families so they can see that even with limitations, anything is possible.
Supporting Foster, Homeless Youth
More than a quarter of the nation's homeless are located here in California. Of that, roughly 35,000 are K-12 students in San Bernardino County schools. Nearly 1-in-10 of our 403,000 students are either foster youth or homeless. These figures illustrate the dire need for support.
The academic challenges faced by homeless students are not unlike those shared by children living with foster families. By the time these students are adults, they have changed schools at least five times, reach only an average seventh-grade reading level and have been three times as likely as their peers to get expelled. Homeless students and those from foster families may face significant obstacles in achieving academic success due to social barriers, inconsistent attendance or just having the basic necessities in order to show up for school.
To prepare homeless and foster youth students for this school year, our Children Deserve Success program worked with community-based organizations and business partners to donate much needed supplies for students and have distributed: 11,500 backpacks; 35,000 dental kits; and 15,000 pairs of shoes. In fact, homeless and foster youth students engaged with our program are advocating to bring the unique needs of foster and homeless youth to the attention of policy makers and practitioners.
Fostering Innovation In Schools
In this era of endless innovation, the only prediction you can be 100 percent assured of is that the future will look very different from today. Technology and globalization have shifted employers' expectations of K-12 graduates to be increasingly more tech-literate and savvy. So how do we help our students thrive in the current environment so they become the leaders and change-makers of the future?
Classes began in August for our new Cyber SB program offered through County Schools ROP at the new Dorothy Inghram Learning Center. Partnering with both San Bernardino Valley College and Cal State San Bernardino, the classes offer students in the region an education pathway to lucrative and fast-growing careers in cybersecurity. Nearly 1.5 million cybersecurity professionals will be needed to accommodate the predicted global shortfall by 2020 — just two short years away. The goal for Cyber SB is to create a strong pipeline of students who possess industry-recognized credentials and degrees needed in this high-demand field. Cal State University San Bernardino offers one of the top Cybersecurity programs in the country, placing 100 percent of graduates into high-demand and well-paying careers.
Emerging Career Technical Education
High quality career pathways that integrate rigorous academics, demanding Career Technical Education sequences and work-based learning opportunities help students gain an advantage in high school, postsecondary education, training and careers. One such program that allows students to show off their imagination, as well as their engineering skills, is the annual Rube Goldberg machine competition. A "Rube Goldberg" is defined as a complicated and fun way to complete a simple task and is an outstanding opportunity for students pursuing STEM pathways, degree programs and careers.
Another great example of a Science Technology, Engineering and Math pathway is happening at Cobalt Institute of Math and Science in Victor Valley Union High.
The school was recently recognized as a Project Lead the Way Distinguished School, making it one of only 110 schools nationwide to receive this distinction.
The mission of Project Lead the Way is to increase the number and quality of technologists, engineers and biomedical professionals graduating from schools.
Cobalt's program provides seventh- and eighth-grade students with a strong foundation for post-secondary education and careers in multiple areas, including engineering, biomedical studies and technology.
100 percent of the school's students have access to, and engage in, these courses, and at least 70 percent of them receive a "B" grade or higher.
So far, 85 percent of graduates from Cobalt have continued on to STEM-related careers.
The task at this year's county and national contest was to "Pour a Bowl of Cereal." Chino Valley Unified's Lyle Briggs K-8 School took top honors in Division 1 at the countywide competition. The Briggs team, which refers to itself as "General Skillz," - not General Mills - went on to snatch first place in its division at the national competition last April in Chicago.
College Readiness and AVID
Improving college opportunity and completion remains a priority for San Bernardino County school districts. One program having a profound and enduring impact on college readiness is AVID – Advancement Via Individual Determination. Our Inland Empire region is the No. 1 area in the U.S. and the world for producing the highest number of AVID high school graduates.
For the Class of 2018 in San Bernardino County, 2,650 graduates from 53 high schools set a record as the largest class of AVID graduates ever. Our graduating seniors tell a phenomenal collective story – many are the first members of their families to attend college. Ninety-six percent complete A-G requirements; 86 percent are accepted to four-year colleges and universities; and by the way, 80 percent qualify for free and reduced lunch.
Plus, AVID isn't just about high school anymore – last year, more than 31,000 middle and elementary school students in our region took AVID classes. All totaled, 367 schools participate in AVID - more than 2-out-of-every-3 schools in San Bernardino County. AVID is impacting the present and transforming the future for thousands of students.
Grad Rates On Rise
California's sweeping education reforms have resulted in higher graduation rates, according to a recent study by the Learning Policy Institute. We're seeing the results in San Bernardino County, where high school grad rates continue to increase - four points in the last four years. The most recent data shows our four-year cohort graduation rate up to 82.6 percent, nearly identical to the statewide graduation rate of 82.7 percent. Seventeen of the 22 school districts with high schools in our county had grad rates higher than the state average and eight county school districts scored above the 90th percentile.
The Arts Continue To Shine
Arts-rich learning environments also contribute to increased academic achievement and promote positive school culture. At County Schools, I am proud that we have been able to expand countywide arts programs and recognitions over the past few years, including our Celebration of the Performing Arts.
Conclusion
Thank you for allowing me the privilege to serve as your county superintendent and for joining me today. While we have made significant progress transforming our public schools, we know there are no short cuts to long term change. It has been said, "The race is not given to the swift or the strong but to those who endure to the end." This journey requires continuity of purpose; collective vision; shared goals; and a sustained commitment from all of us in this room. So, let's keep moving forward. Let's give it our all! Let's not just reform, let's transform. Choose each day to make an impact…and transform lives through education!